As per the COVID restrictions announced by the Government of Alberta, LSCO will be closed to the public until further notice.
Curbside Lunch Specials will be offered every Wednesday and Monday in January.
Curbside Lunch Specials will also be offered on Wednesdays in February.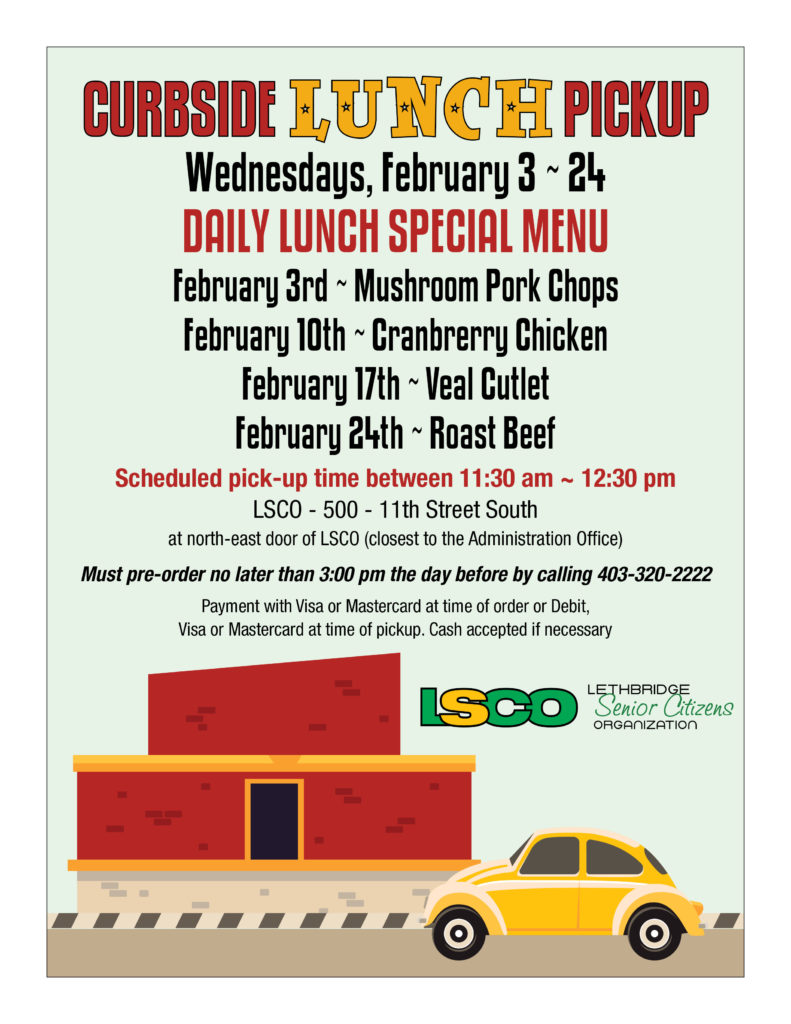 Support Group sessions will continue with limited attendance and all public health guidance and physical distancing requirements must be followed.
Support Services such as snow removal, homemaking services and Meals on Wheels will continue.
---
LSCO Program Department Fall 2020 Class Update
Due to COVID-19 and the latest mini shut down, LSCO is planning on extending some classes into January 2021. Therefore, 2021 classes will start later than past years. Individuals presently registered will be contacted as to when their class will commence.
Look for future class listings in the February 2021 LSCO Times.
We thank you for your patience and understanding.
---
LSCO Re-launch Procedures
Click on the link below to download or read the re-launch procedures for LSCO.
---
The Board of Directors, Executive, Staff /Members of the LSCO welcome you to our Organization.
Our concept of a "service to seniors by seniors" was introduced to Lethbridge in 1974.
The Organization has expanded and grown and has become one of the largest seniors organizations in Canada.
Established as a Society in July 1975 as a multipurpose 56,200 square foot senior centre located in the heart of the city. It is designed to be the community focal point on aging where older persons as individuals or in groups can come together for services, activities and sociability.