Click the titles below to be taken to the information about each event:
Holiday Hours:
Friday December 22: 8 am - 2 pm
Monday December 25 (Christmas Day): Closed
Tuesday December 26 (Boxing Day): Closed
Friday December 29: 8am - 2 pm
Monday January 1(New Year's Day): Closed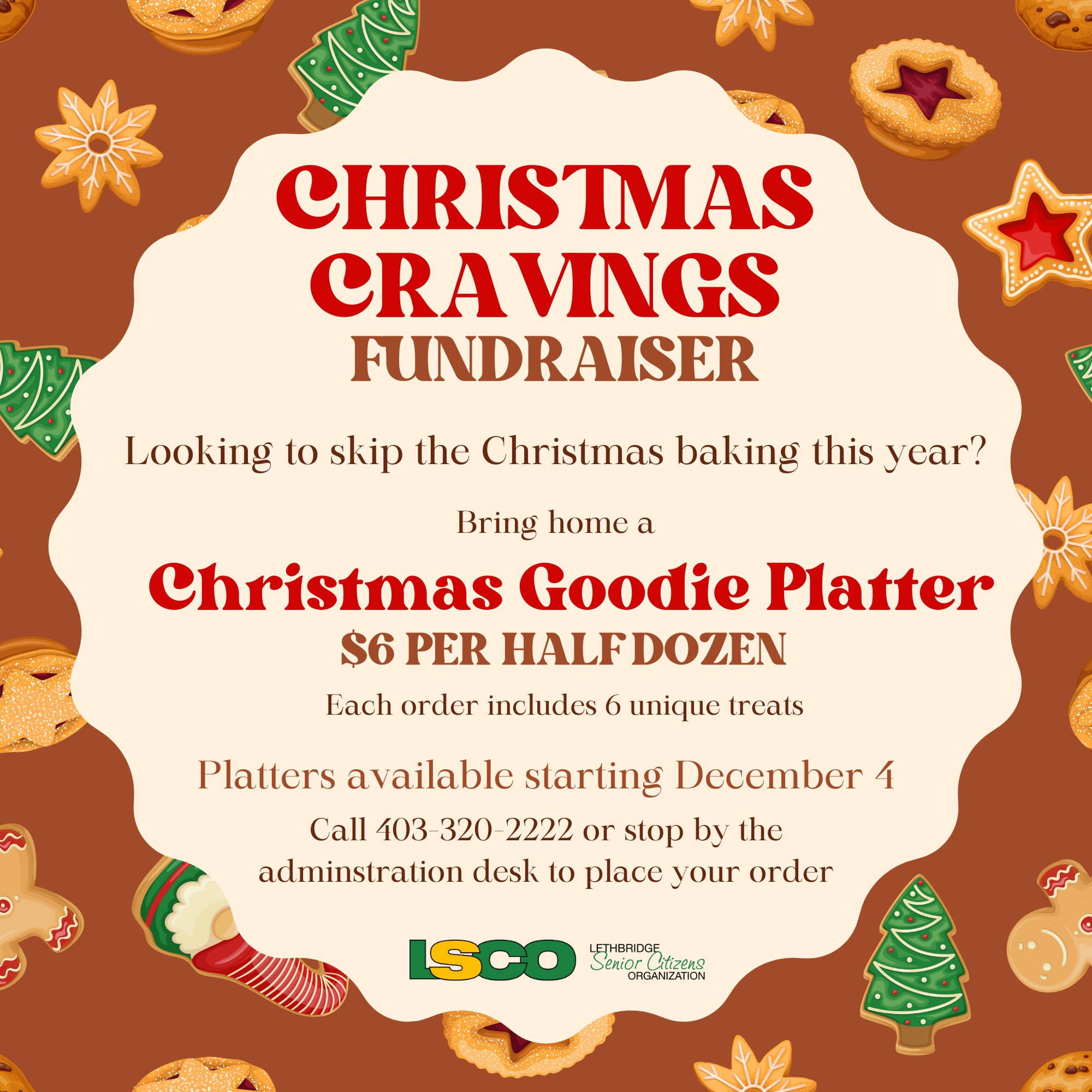 Christmas Cravings Fundraiser
December 4 - December 22
Bring home a Christmas Goodie platter featuring 6 unique Christmas treats. Place your orders at the administration desk or by calling 403-320-2222, with pick up starting on December 4. $6 per half dozen.
You can sign up whenever you'd like but you must pay for your order before it will be filled.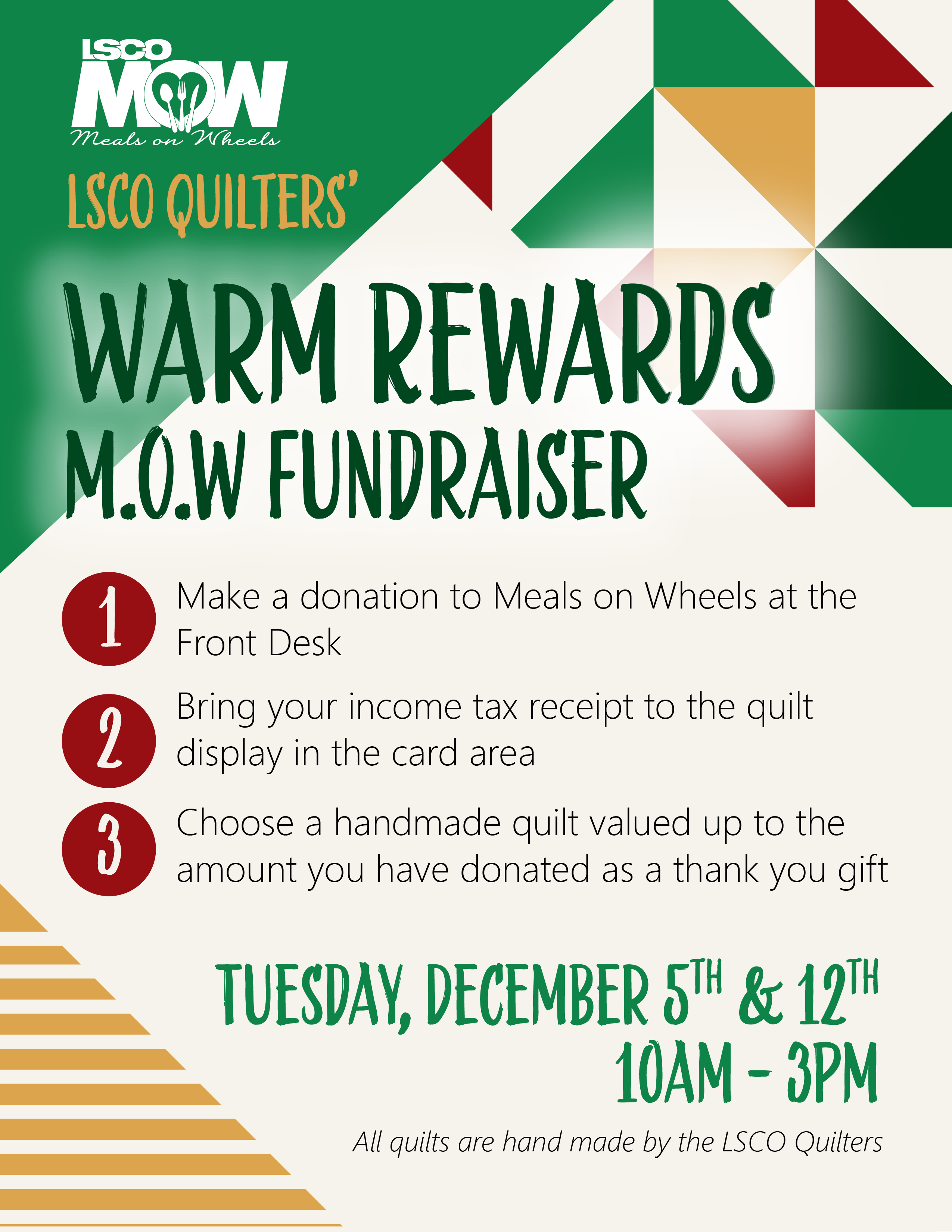 Warm Rewards M.O.W Fundraiser
Date: Tuesday December 5 & 12
Time: 10 AM - 3 PM
Details: The LSCO Quilters would like to keep you warm over the winter while raising money for Meals on Wheels. Here's how it works:
1. Make a donation to Meals on Wheels at the adminstration desk and keep your tax receipt
2. Bring your tax receipt to the quilt display in the card area on December 5 or 12*
3. Choose a handmade quilt valued up to the amount you have donated as a thank you gift
*Unable to make it during these dates? Contact Hannah at 403-320-2222 ext. 302 or
[email protected]
Cost: Quilts ranging from $45 - $1000 *as quantities allow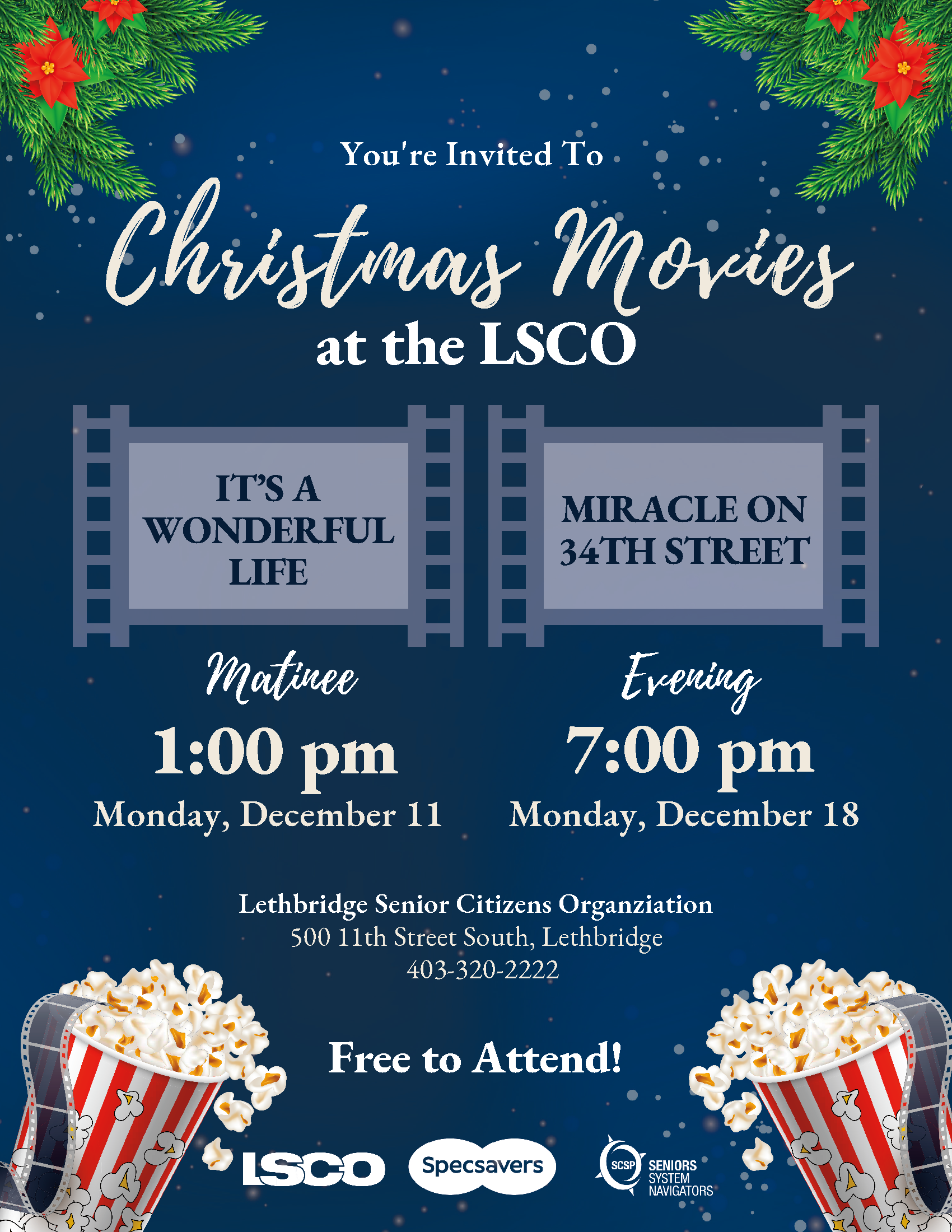 Christmas Movies at the LSCO
Date & Time: Matinee: Monday, December 11 at 1:00 pm | Evening - Monday, December 18 at 7:00 pm
Details:If you miss going to the movies, have we got a treat for you! Popcorn included (Thank you Specsavers Park Place Mall). No sign up necessary.
Matinee Showing: It's a Wonderful Life (1946)
Evening Showing: Miracle on 34th Street (1994)
LSCO 39th Annual Christmas Turkey Dinner
Date & Time: Monday, December 25 @ 11 AM - 1 PM, in person
Details: Each year, volunteers & staff at LSCO serve a Christmas meal – for free – to anyone who is in need of a friendly face and a full belly. In 2022 we delivered over 1000 meals across Lethbridge as well to on-duty first responders and the Lethbridge Soup Kitchen.
*To ensure we have enough food, we are asking that you RSVP to the Christmas Dinner in advance by calling 403-320-2222
Transportation to the LSCO will be available through the Go-Friendly Bus. Please contact the LSCO to arrange
 Due to rising food prices, we expect demand to be higher this year. If you are able, please consider sponsoring meals. Each meal you sponsor will be labelled with a custom Christmas greeting from you.
If you are interested in volunteering for Christmas Dinner, email [email protected]