Get involved with our upcoming events and fundraisers
It's A Wonderful Life Radio Play
Funds raised will support local seniors programs at the LSCO
Join us as we transport the Yates Memorial Centre back to the time when radio dramas brought families together, to a time before streaming, cellphones and podcasts. It's A Wonderful Life: A Live Radio Play is the play that reminds us what Christmas is all about.
Showtimes:
November 18, 2022 @7:30 PM
November 19, 2022 @7:30 PM
November 20, 2022 @2:00 PM
Tickets
Tickets can be purchased online through the Enmax Ticket Centre website or by calling the Ticket Centre at 403-329-SEAT (7328) or from the Yates in person to save on processing fees.
General $50 
Senior $45
Youth $5
PURCHASE YOUR TICKETS ONLINE HERE
About the Show
One snowy Christmas Eve, after a lifetime of putting off his own plans to help others achieve their dreams, George Bailey hits his breaking point and contemplates the unthinkable. It's up to a good-natured angel named Clarence to show George how a small life can make a big impact.
Based on the story, The Greatest Gift this holiday classic is retold as a live 1940's radio broadcast where you become our live studio audience! Complete with live sound effects, old timey jingles and an ensemble cast that bringing dozens of characters to life.
Meet the Cast and Crew
Tony Deys
Tony is a self-proclaimed Man of Mystery and Powers, whose power is exceeded only by his mystery! He has appeared in many musicals, including Guys and Dolls; Jesus Christ, Superstar; as Stone, the private shamus in City of Angels; and a swindler in Titanic. He has a unique perspective on a lot of things but is not sure if that means he is gifted, or just needs glasses. He is married to the lovely Stacey, and they have three children, Nicole, Joshua and Bryce. For fun, he chases his kids around the city and his wife around the house!
Morgan Day
Morgan is thrilled to be part of It's A Wonderful Life for the third time.  What a blast to hang out with this cast and crew for another go-around!! She has been a part of various community theater projects for many years in Lethbridge.  She finds great joy everyday in her job at Winston Churchill High School.  Her heart is also always filled with family!  A big thank you to Cooper, Dixon, and Aaron for their continuous support. Finally, thank you to Fran for the opportunity to continue to perform in this vibrant community!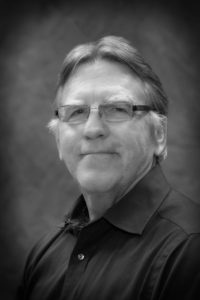 Mark Campbell
Mark Campbell is delighted to be back on stage to reprise the role of Clarence. Mark has been active in theatre since the 1970s when the Allied Arts Council of Lethbridge did summer shows. Performing at the Yates is a welcome distraction from his busy life on City Council. 2022 has been quite a year for Mark with his 40th Anniversary of the Greetergrammers show in June, The Starlight Lounge in October and now this old-time "radio" show. It truly is a wonderful life!!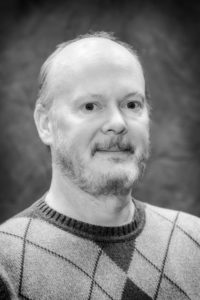 Stephen Graham
Stephen has been involved in Lethbridge theatre for over 30 years — acting, singing, dancing, stage handing, stage managing, and directing. He has appeared onstage with the Houston Ballet Touring Company in Swan Lake, with Wayne Brady in Las Vegas, and with Colin Mochrie in Edinburgh (even if only for a few minutes). Most recently, he has appeared in productions of All is Calm and It's a Wonderful Life. Outside of theatre, Stephen teaches at the Lethbridge College. In his "spare time", he is pursuing a PhD in Artificial Intelligence at the University of Lethbridge. 
Kade Hogg
Kade's performances on the stage span over four decades with the Lethbridge Symphony, University of Lethbridge Opera Workshop, University of Lethbridge Singers, Vox Musica, Carriage House Theatre, Cardston Community Theatre, and several "Rude & Rogers" productions. Favorite roles include Tamino in The Magic Flute, Dickon in the Secret Garden, Nicely Nicely Johnson in Guys and Dolls, and Joseph in Joseph and the Amazing Technicolor Dreamcoat. Choral highlights include a stint with the National Youth Choir of Canada and tours to Ireland and Eastern Canada with the University of Lethbridge Singers. Kade is especially appreciative of his wife, Leah, and son, Branson, who support him in artistic pursuits; he is thrilled to be joining Fran and the cast of It's a Wonderful Life again! Kade teaches music and social studies courses at Winston Churchill High School and is the music director at Southminster United Church.
Jory Kohn
Jory is no stranger to the Lethbridge Theatre scene. This fall Jory sang with the amazing Starlight Singers and Orchestra for the third instalment of The Starlight Lounge. Being on stage after a two and a half year forced hiatus is truly a joy, and to share it with dear friends recreating a beautiful story is a gift. Jory teaches French Immersion Kindergarten at École Agnes Davidson and takes great inspiration from her students. Thank you, Fran, for bringing this incredible group together to create magic with this piece once again. And deep love and appreciation to Linda and Garry Kohn who have made sure I have lived a wonderful life. 
Sheila Matson
Sheila is happy to return to a favourite production – It's a Wonderful Life with her friends in cast and crew. Sheila's been a part of the Theatre community for many years. Her last "Fran and Ken production" was Titanic. Welcome everyone, thanks for coming, sit back and enjoy the show!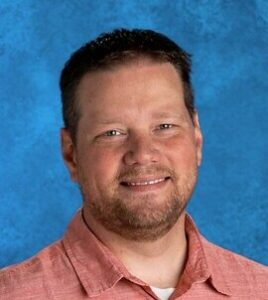 Tyler Leavitt
Tyler Leavitt has been involved with musical theatre for over 20 years. His most recent appearance was with several roles in All is Calm 2021. He also is a member of the Chinook Chamber Singers. Tyler is a teacher at Gilbert Patterson Middle School as Choir Director and Drama Co-ordinator.
Richard Coombs
Richard Coombes holds a Master of Music degree in piano performance from UBC. Since 1991, his career branched into music theatre, and to this point has been involved in 32 shows in all capacities from music director, keyboard player and rehearsal pianist. Highlights include national and international tour of The Phantom of the Opera, a tour of Cinderella in Asia and a US tour of My Fair Lady. After moving back to Lethbridge OP\9-he has been fortunate to reunite with former and new colleagues on productions of Jesus Christ Superstar, Titanic and All is Calm. He is thrilled to be back with this talented cast for this magical piece.
Fran Rude: Director
Fran has directed more than 50 major plays and musicals in Lethbridge and area, the most recent being Les Misérables, Jesus Christ, Superstar,  Titanic, All is Calm, and Starlight Lounge, 2022. She has received several provincial and local awards for her work, including Provincial Special Achievement in Directing Award (1978), LMT On Stage Lemmy Award (1978), Woman of Distinction in the Arts Award (1982), and Alberta Centennial Medal (2005). Fran actually listened to the original Lux Radio Theatre broadcast of It's a Wonderful Life back in the 1940´s, with her family gathered around the radio. She remembers it as if it was yesterday. Thanks to the LSCO, cast crew, musician and designers for their support and wonderful work in bringing this project to life.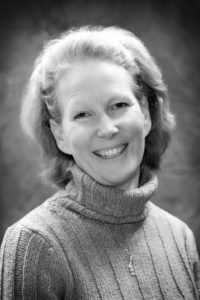 Nancy Graham: Stage Manager
Nancy has stage managed a wide variety of musical shows, plays, operas, and events since the early 1990's. Most often tin the past few years she is seen with the Lethbridge Symphony Orchestra, the University of Lethbridge Opera Workshop, the Lethbridge Community Band, and pretty much every show that Fran and Ken work on. If she is not doing something related to theatre, she's usually coaching, steering or paddling a dragon boat somewhere. Huge thanks go to her husband Stephen and her awesome adult daughters Dorothy and Eileen for all the support over the years.
Brent Devos
Brent has been designing and building sets in Lethbridge for nigh on 12 years. Some of his favourites have been: Evil Dead, the musical; Avenue Q; The Dollhouse; Titanic, the musical, and All is Calm (2021). 
Jason Eveleigh
Jason has been involved in the entertainment industry for over 20 years, beginning in Calgary, following which he toured Canada for 6 years with various Acts. In 1993, Jason returned to Lethbridge and since has provided sound for local and international artists. Local Acts include Hippodrome and Billie Vegas; national Acts include the Good Lovelies, the Big Sugar, Ron Sexsmith and Harlequin; international Acts include Snoop Dogg, Buck Cherry, Foreigner, and many others. Prior to the Pandemic, he averaged 150 shows a year, including the Lethbridge Jazz Festival, various school productions, and mentoring students in Drama and Theatre, also designing for LMT's Newsies and Nine 2 Five; Rotary's It's a Wonderful Life, LSCO's Titanic, and All is Calm (2021). Since almost all performing arts work halted early in 2020, much of his sound work involved installing or improving sound systems in venues around the area. He is thrilled to be back working designing sound for this production. Jason also can be found singing and playing as front man for the band, The Bamboo Guppies.
Mary-Lynn Muhly
Mary – Lynn has been working in theatre in Lethbridge for at least 20 years. She does just about everything backstage: designs props, builds props, build sets, paints sets, design scenic arts, manages costumes, and serves on theatre company boards. In 2019, she ventured forth into directions a one act play, which took top honours in One Act Festivals regionally and professionally for Play, Actor and Director. Mary – Lynn loves every minute spent working with theatre groups in Lethbridge and in 2020, received the Joan Waterfield Award for her contribution to the Arts. She is beyond happy that the Yates has re-opened after an 18 month shut down and pleased to be working again with the It's a Wonderful Life company, and the LSCO.
Rob Stanford
For the past 18 years, Rob has worked as a technician for the Yates Centre and resident lighting designer for New West Theatre. During this period, he also, has designed the lighting for many of the shows directed by Fran Rude and Ken Rogers, including 10 with the Lethbridge Symphony Orchestra, 2 with Rotary Club of Lethbridge Sunrise, and 5 with the LSCO, the most recent being Titanic, and All is Calm (2021). He also has designed for Chinook High School, Theatre Outre, and Lethbridge Musical Theatre's production of 9-5.
Thank you to our amazing sponsors!
Title Sponsor

Gold Sponsors
Silver Sponsors
Bronze Sponsors
Interested in becoming a sponsor? Check out our sponsorship package to see all the benefits or contact Hannah at [email protected] or call 403-320-2222 ext. 33 for more information
Volunteer
We are looking for 4 volunteers for each show to help with general usher responsibilities.
Please contact Hannah at [email protected] or call 403-320-2222 ext. 33 for more information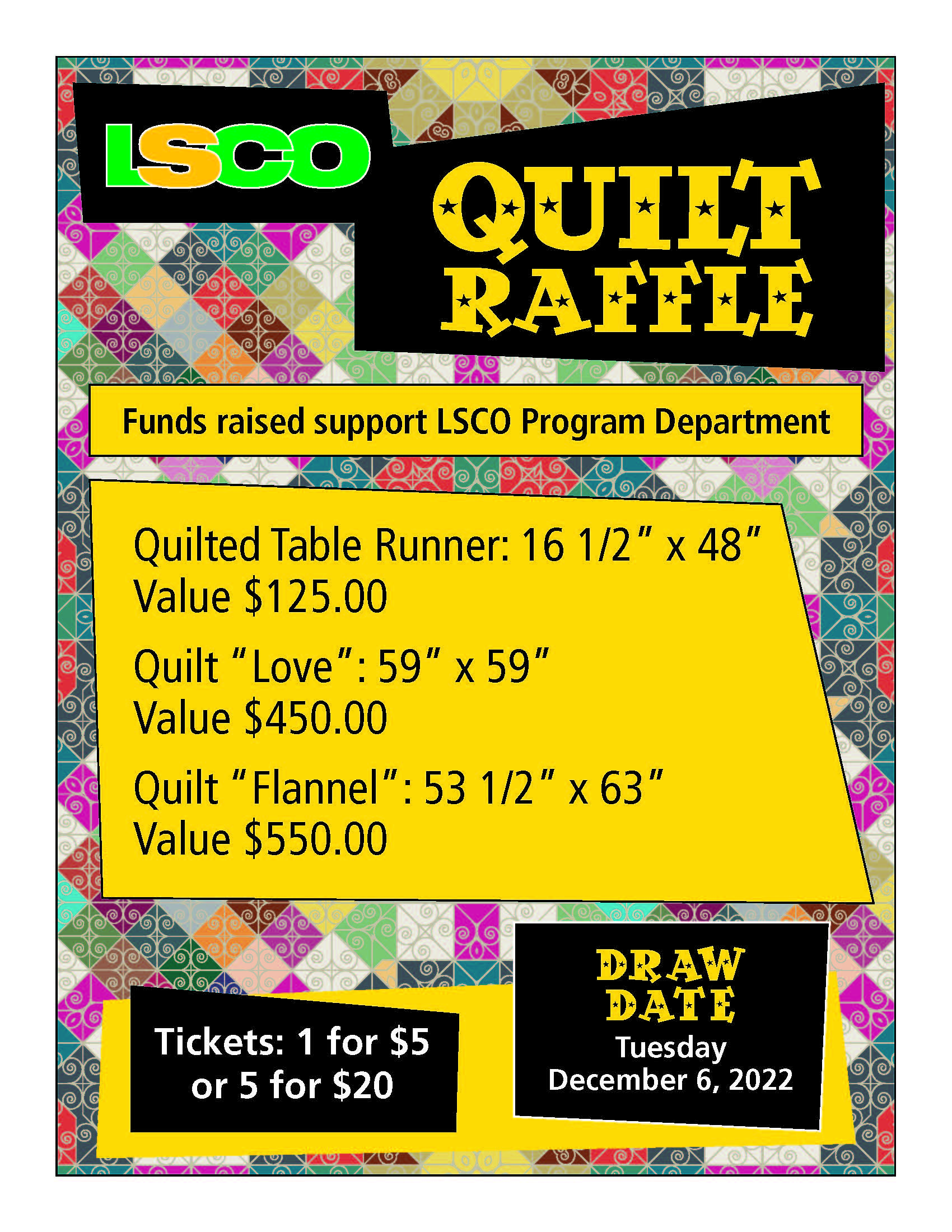 LSCO Quilt Raffle
Funds raised will support LSCO Program Department
Purchase your raffle tickets at the LSCO for the chance to win one of three beautiful quilts generously donated by our very own quilting club! 
Draw Date: Tuesday December 6, 2022 at 1:30 PM.  Each item will be drawn separately. The winner does not need to be present to win and will be contacted by phone once drawn.
Volunteer
We are looking for volunteers to help sell raffle tickets at the LSCO Community Centre
Please contact Hannah at [email protected] or call 403-320-2222 ext. 33 for more information